Dog's Collection of Journal Entries & Drawings from Day 11 of the Apocalypse (His Favorite!):
Dog:
Owner says we are doing something called cam-peeing. I like it! Cam-peeing is good because there are so many trees. Trees are good. New Friend got stuck on a tree and I accidentally cam-peed on him. Oops! I do not think it is a good idea to get stuck on a tree. But climbing up a tree would make it easier to cam-pee on lots of things at once. Is that why Cat goes up there? She will not come down even when I ask her to over and over and over. Cat better not cam-pee on me on purpose because I am a big, strong dog and I can reach up and get her in the tree if I really, really tried for real. I just do not want to right now.
PS – It was too hard to not eat all the good food in my table-scraps book, so now I am only collecting our journals and photos because they are not as tempting to eat.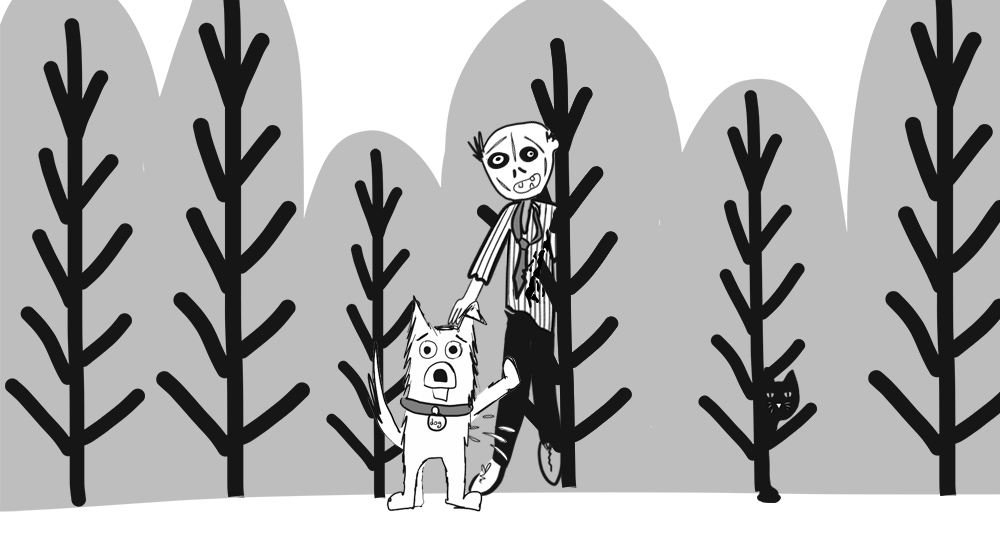 Owner:
I never liked camping, but I'm glad I know the basics. Miraculously, we found a tent and a few supplies in an abandoned pick-up truck. There are lots of places to camp now, but Dog seems to feel most comfortable when we're surrounded by trees, so we're camping in the woods at night, away from the freeway, but keeping it in sight during the day, heading North. I do kinda wish Dog didn't insist on peeing on the trees all the time, though – and barking at them. Honestly, sometimes it's like he doesn't even understand English. But he is so protective of me. He's always getting in-between me and the zombies, or finding them before I do, so I shouldn't complain, I guess. Even though he isn't a huge, scary dog, he doesn't seem to worry. He is so brave!
PS – Dog ate all that food he was saving in his journal, but he keeps taking parts of my journal. Is he eating paper now too? That dog is really weird sometimes.
———————
Zombie:
Ssssssstuck. Caaaaaaaat! Eeeeewwww!