Dog's Collection of Journal Entries & Drawings from Day 81 of the Apocalypse (His Favorite!):
Dog:
I am practicing big jumps so when I climb a tree I can jump down. Today was my favorite! Owner was so proud of my skills, we went high up on a wall to show a whole crowd of new friends. Then we demonstrated my climbing skills by climbing onto a porch, where New Friend was waiting to pet me. But there was a porchfield between us. I tried to break the porchfield with my head because Owner says it is as hard as a rock, but it did not work. Do rocks get headaches too?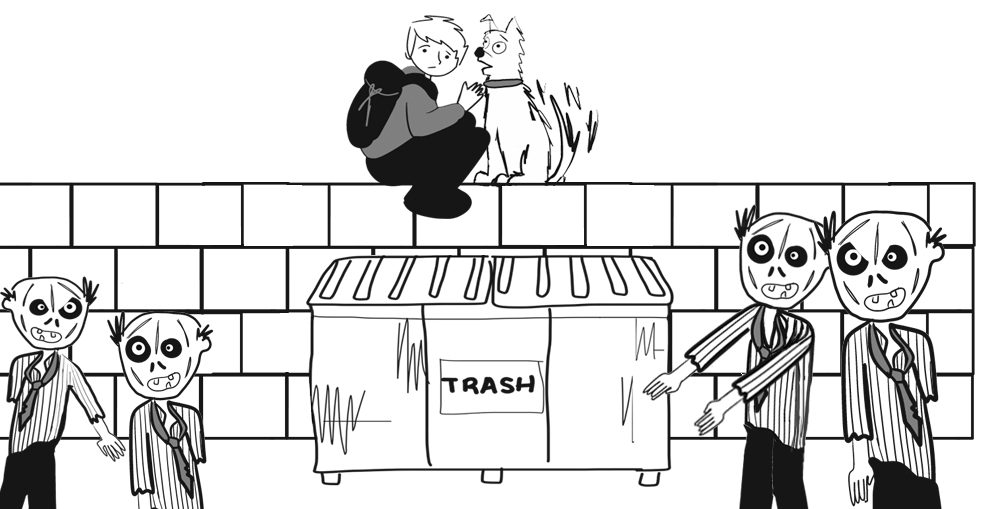 Owner:
Still scavenging. Haven't seen any people for a while but we got stuck in an unexpected herd of zombies and had to climb onto a concrete wall. Good thing Dog is getting better at climbing. We walked the wall to an apartment complex and the herd followed. Had to hop porch to porch until we found an unoccupied apartment and now we wait it out. One place had a zombie inside, behind the glass patio door, and Dog got so riled up that he threw himself into the door to defend us, even though I told him to come. (We are still working on that.) Luckily Dog has a thick skull and wasn't hurt much.
———————
Zombie:
Waaaaaant owwwwwwwt! Hep!